Every month, we will feature a Q & A or an interesting article provided by Dr. Stone relevant to sex therapy, counseling, marriage and more. To submit a question or article idea for consideration, contact Dr. Stone here.
FEB 2017
Dr. Stone's new ad to appear in Golf Life Magazine: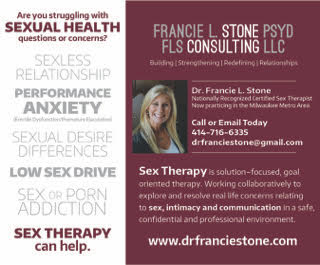 JAN 2017
Read My article on Who Takes Care of The Person in Charge:
DEC 2016
Read my article on if Sex Therapy is Right for You:
http://patch.com/wisconsin/waukesha/sex-therapy-right-choice-you
NOV 2016
7 Relationship Myths:
http://www.refinery29.com/relationship-myths#slide-3
OCT 2016
8 Secrets to a Better Orgasm
1.  Practice solo.  Learn your own body and what feels good to you and turns you on.  How much pressure, friction, speed…
2. Communicate.  Let your partner in on the secrets.  Communicate to each other what, where and how it is the most pleasurable.
3.  Kegels.  Do your exercises.  For both men and women.  Strengthening the pelvic floor muscles strengthens the intensity of orgasm.  To find the PC muscle, start and stop peeing mid-stream.  Throughout the day squeeze and release while you breathe.
4. Engage in thrill-seeking behaviors, like watching a scary movie together.  This stimulates the dopamine in your brain and gets the juices flowing.
5.  Delay pleasure/gratification.  Let your auroral build up.  Get close to orgasm and then slow down.  Repeat a few times to build up for the final explosion.
6. Foreplay – not only the kissing and touching prior to getting it on… Being creative throughout the day by texting or emailing sexy messages (not too graphic) builds the sexual tension for a fun-filled evening of pleasure.  OR will have you racing to get home…
7.  Focus on the physical sensations.  Being mindful and present in the moment rather then allowing your brain to wander from the dishes to the position…
8. Find your G-spot.  Yes, men and women have a g-spot – and it takes time and creativity to find yours and to learn how to turn it on.